San Diego Termite Treatment
SAN DIEGO INSPECTION & FUMIGATION
Termite fumigation is one of the only ways to completely eradicate termites.
Termites cost property owners $5 billion in treatment and repair annually. Termite fumigation in San Diego is a form of eradication. If you are looking to prevent termites from entering your house, talk to your San Diego termite inspector about the maintenance programs we have to offer. Are you looking to completely eradicate Drywood termites from your home? Then fumigation is the best option. We walk you through the entire process from start to finish so you can rest assured your home is being taken care of properly and to your satisfaction.
THE TERMITE INSPECTION PROCESS
After the San Diego termite inspection is finished, the termite inspector will complete a report with photos documenting findings (which is important for the escrow process and for your records should you ever want to sell your home). The termite inspection photo report will then be emailed to you.
The inspector will note any evidence of a live termite colony and how much damage the colony has created. If possible, the inspector will show you the termite damage if the area is in an accessible space. The termite inspector will also offer a recommended termite treatment and termite control plan.
The inspector will carefully review your home, including favorite termite hangouts, like:
The attic
The garage
Crawlspaces
The inspector is highly trained to spot evidence of termites, including damaged wood, dropping, and shed wings. The inspector can determine if an infestation is active or has previously been treated and estimate the size of any active colonies.
FACTS ABOUT FUMIGATING YOUR HOME
There are several alternatives to localized chemical treatments. However, only two methods for
whole-house eradication
of drywood termites exist: fumigation and whole-house heat treatment. Other methods such as electro gun, microwave, and freezing with liquid nitrogen are local or spot treatments designed to eradicate termites in a specific area. However, they are not intended for whole house eradication and therefore are NOT alternatives to fumigation.
Fumigating your house will eradicate all drywood termites, but it will not kill subterranean termites (unless present in the wood members of structure to be fumigated). Subterranean termites are below ground and are not reachable via fumigation. To eradicate subterranean termites, an inspector will need to inspect your property to see what type of treatment is necessary for your properties specific needs. Here at Wild Wild Pest Control we offer several different types of treatments and heat or chemical barriers are just a couple of them.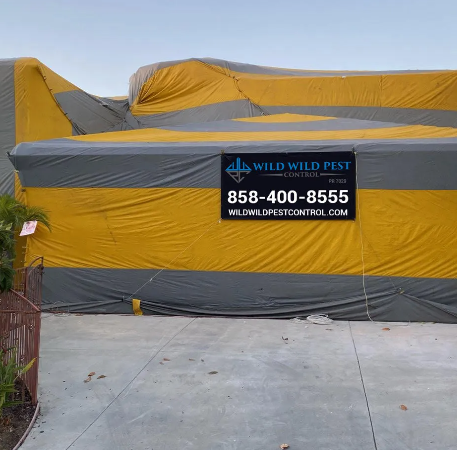 TERMITE FUMIGATION PROCESS

Termite tenting is typically a 2-Night, 3-Day process during which you will need to vacate the home. There are some steps needed to be taken prior to the tenting by the homeowner to ensure safety and success of the fumigation. Below is the process day by day.
BENEFITS OF HEAT TREATMENT

The great advantage to doing heat treatments is this can be done in one day, NO MOVING OUT, NO CHEMICALS, JUST HEAT!. Once the process starts a technician is at your home until the treatment is completed. (Normally an 8-hr. period) An additional advantage is that portions of large structures can be treated separately, which is very useful in apartments and condominiums.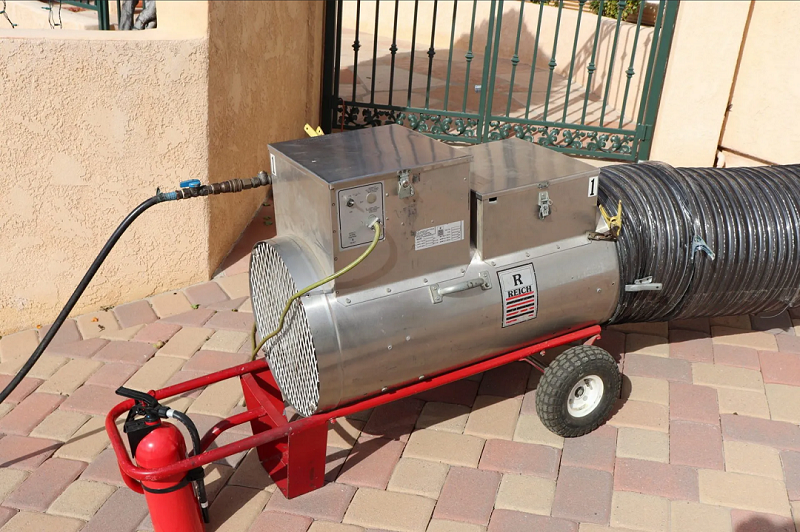 OUR HEAT TREATMENT PROCESS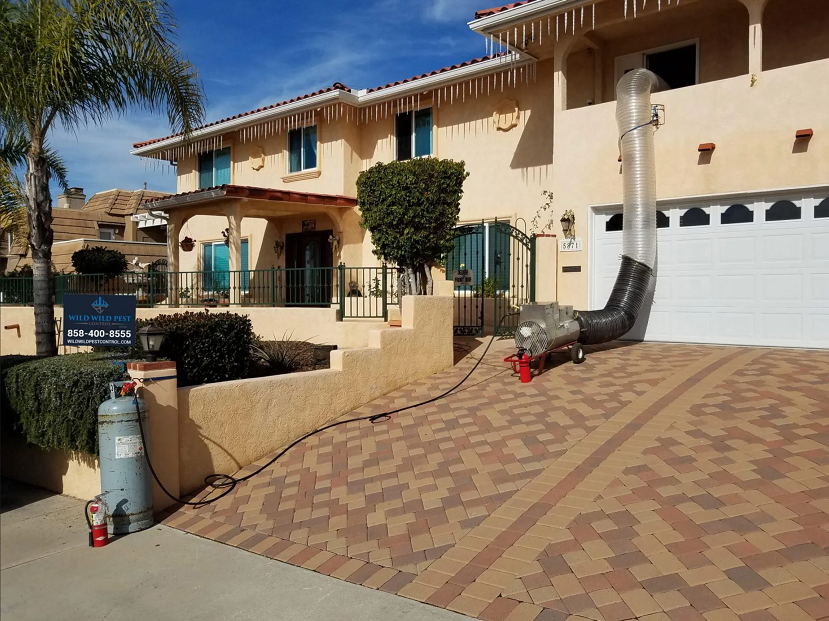 The length of time the treatment takes varies depending on the size of the areas being treated as well as the weather.  The average length of a heat treatment is approximately 5-8 hours. Your technician will have a much more accurate time for re-entry once at the property. However, as a minimum you will need to be out of the structure for 9-hours from the time we arrive. This will allow for set up, service, and a cool down period. During treatment temperatures will range from 135-200 degrees Fahrenheit. This ensures the core of targeted wood members reach appropriate internal temperatures allowing us to eradicate all life stages of Drywood Termites. Tarps may be used to ensure heat is retained on the exterior where wood is exposed. Clips are used to secure these tarps in place during treatment. It is important that the area at least 18 inches from the foundation of the structure (in treatment areas) is clear to accommodate our tarps and equipment. All vegetation and plants that is inside the treatment area may be affected. As such True Heat Solutions will not be responsible for damaged vegetation or plants. Upon re-entry you may find items have been moved around as it is a necessary part of the process to ensure heat is applied most effectively. You may find the internal ambient temperature of the structure is warm, but the structure should be allowed to cool naturally. Please do not open vinyl windows or turn on air conditioner(s) for at least 2 hours post treatment.